Zoltán Grossman
The early morning scene could have been at any one of the innumerable coffeehouses in the Pacific Northwest. Two baristas served steaming mugs of espresso, while their co-worker produces graphics on a computer. Another employee played Rachmaninoff on the piano. Customers sipped their coffee as they read the morning newspaper.
Yet at second glance, both baristas were Iraq War veterans wearing t-shirts against the war. One served in Iraq as an Army machine gunner, and the other as Marine machine gunner. The guy on the computer was an Army counterintelligence agent in Mosul, and the guy playing the piano was a private first class in the Army National Guard. Most of the customers were wearing khaki fatigues, and reading about their imminent deployment to Iraq or Afghanistan.
G.I. Voice and Coffee Strong
This was Coffee Strong, a G.I. coffeehouse and resource center outside the gates of Fort Lewis, renamed Joint Base Lewis-McChord (JBLM) in 2010. It was located in Lakewood, Washington, between Olympia and Tacoma. The coffeehouse—whose name spoofed the recruitment slogan "Army Strong"—was opened on Election Day 2008 by G.I. Voice, a local veteran-led nonprofit project, and closed in 2015.
Coffee Strong was modeled after the G.I. coffeehouse movement from the 1960s, including the Shelter Half coffeehouse near Fort Lewis (see Vietnam Era). The G.I. movement against the Vietnam War is  described in the book Soldiers in Revolt (Cortright 2005), and the documentary Sir! No Sir! (Zeiger 2005). But G.I. Voice used 21st-century outreach tools to connect with soldiers and their families, such as computers for soldiers to access the Internet without Army interference. Coffee Strong was only the second G.I. rights coffeehouse to open in the country since the Vietnam War; others were opened during the Iraq War in New York, Texas, and Virginia.
The goal of Coffee Strong was to provide soldiers, their families and recent veterans a place away from the base where they can learn about resources available to them, meet with G.I. rights counselors, veterans' health care advocates, and access alternative information (Murphy 2009). It held hosted films and speakers, hiphop, punk, and folk concerts, art workshops, and other events.
G.I. Voice described its mission as "pro-soldier, anti-war." The group was independent of any other organizations or political parties, as an autonomous expression of the community of soldiers, veterans and their families affected by the Iraq and Afghanistan wars. Antiwar veterans often felt unrepresented both by mainstream veterans' groups that support the wars, and peace groups that do not understand the experiences and grievances of soldiers. Through G.I. Voice, and other groups such as Iraq Veterans Against the War (IVAW) and Military Families Speak Out, they organized among themselves to speak for themselves, and to provide servicemembers and their families with a place to freely express themselves.
Fort Lewis spokesman Joe Kubistek said the Army was aware of the coffeehouse, but acknowledges that since it is a legal business, the Army would not restrict soldiers from going there. But at times, soldiers reported, commanders told them privately not to go to Coffee Strong.
G.I. Voice addressed issues of concern to soldiers during the Iraq and Afghanistan wars—such as repeated "Stop-Loss" deployments to war zones, command abuse, repression of constitutional rights, Military Sexual Trauma (harassment and rape), health and safety conditions, and Post-Traumatic Stress Disorder (PTSD). The group maintains that once servicemembers are actively struggling with their command around issues of working conditions, they can start to see the connections between the occupation of other countries and their own situation in the U.S.
Former G.I. Voice Director Seth Manzel spent a year deployed in Iraq in 2004, assigned to the 1st Stryker Brigade from Fort Lewis. He wrote in the local newspaper Works in Progress, "For soldiers and their families to engage in resistance requires them to stand up for soldiers' rights. The mere act of standing up for one's rights in the Army is enough to slow down a unit's deployment times. The Army could not function if it delivered on all its promises to soldiers and their families. In this way a moderate message (stand up for G.I. rights) could have a radical effect on the military. We don't need to indoctrinate people in the military. If we inform them of their rights, they will come to anti-war conclusions on their own" (Manzel 2008).
Soldiers and civilians
Perhaps nowhere else in the country is there such a stark juxtaposition between a large military base community and large progressive antiwar communities, in nearby Olympia and Tacoma. Civilian residents of the area see and hear Middle East wars almost every day. It is impossible to miss hearing the howitzer fire booming on the artillery range (see Noise Issues), seeing the giant C-17 transport planes from Baghdad or Bagram landing at McChord Field, or overlooking the often-untreated PTSD exhibited in local car accidents, robberies, bar brawls, domestic abuse, and sexual assaults (see Social Crises).
The Iraq War increased the polarization between the military and antiwar communities, but also increased opportunities to work together—since both communities actually care when there's a war going on, when the rest of civilian society casually ignores the war.
Veteran Cesario Larios said he was involved with Coffee Strong "so we can encourage soldiers who have huge moral reservations about what the military is doing. Some of them are choosing alcohol and drugs to avoid the reality of feeling trapped within their military contract and a future that includes more deployments that they don't wish to take part in—that's why we're seeing more suicides. I think that if we can show them that there is a broad base of support from vets and civilians, they will begin to see there is another way" (Paton 2011).
In 2006-08, large direct actions at the Ports of Olympia and Tacoma protested the movement of Stryker armored vehicles to and from Iraq (see Civilian Dissent). Port protesters noticed some Stryker soldiers flashing peace signs when their officers were not watching (even if a smaller number of soldiers instead flashed "half a peace sign"). Pro-war and anti-war demonstrators clashed on the Interstate-5 overpass at Exit 122, which the Lakewood City Council renamed "Freedom Bridge" to honor the pro-war group's presence. The G.I. coffeehouse was only a few hundred yards from the overpass and the base gates.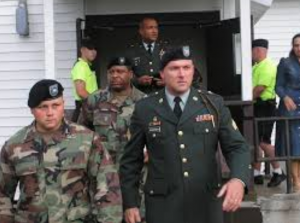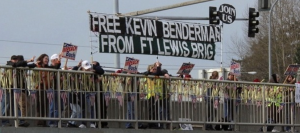 Center of dissent
During the Iraq War, Fort Lewis became a national center of G.I. dissent against the Iraq War, as it was during the Vietnam War. The G.I. movement both contested space, by holding rallies and protests at the base gates, and reclaimed space, by providing a resource center that offered a haven and services to soldiers. Dahr Jamail's book The Will to Resist: Soldiers Who Refuse to Fight in Iraq and Afghanistan (Jamail 2009), and Lisa Gilman's documentary Grounds for Resistance (Gilman 2011), detail some of stories of dissenting soldiers at the base.
Army refusers were jailed for a time in the harsh Fort Lewis jail, also called the stockade or brig. They included Sgt. Kevin Benderman, who had applied for Conscientious Objector (C.O.) status and was jailed in the brig (Benderman 2007).  Spc. Suzanne Swift went Absent Without Leave (AWOL) from her military police unit after being raped (Barber 2006).
Army interrogator Ricky Clousing went AWOL after witnessing abuses of power in Iraq, and turned himself in at Fort Lewis (Clousing 2006). Sgt. Travis Bishop, who had served served 14 months in Baghdad, was sentenced to a 12 months for refusing to deploy to Afghanistan, as he was seeking a C.O. discharge based on his Christian beliefs (Amnesty International 2009).
Lieutenant Ehren Watada was tried in February 2007 for being the first commissioned officer to refuse to deploy to Iraq (Yardley 2007). Peace activists staged support rallies, and a "Citizens' Hearing" tribunal to present Lt. Watada's case that the Iraq War was illegal (Citizens Hearing 2007).
Lt. Watada's February 2007 court martial at Fort Lewis ended in a mistrial, and he was later discharged from the Army (Associated Press 2009).
G.I. Voice hosted trainings of active-duty IVAW members who organized within the armed forces rather than seeking to leave the military, and assisted with the G.I Rights Hotline. It also played a role in staging the May 2008 Northwest Regional Winter Soldier Hearings in Seattle, where veterans testified about the atrocities they perpetrated or witnessed in Iraq (TalkingStickTV 2008).
G.I. Voice participated in the IVAW's Operation Recovery, to support soldiers' "right to heal" by halting the redeployment of soldiers affected by PTSD, Traumatic Brain Injury, or Military Sexual Trauma (Operation Recovery 2011). The group has since affiliated with About Face, the successor to IVAW.
G.I. Voice pointed to a different relationship between the G.I. movement and the civilian anti-war movement. Peace groups can support and do outreach to GIs, working with Iraq and Afghanistan veterans who best understand best how to communicate with the younger military generation. Peace activists could also educate themselves about issues of concern to soldiers, to open respectful dialogue with G.I.s and their families, as a step to working together. Local residents who are concerned about the effects of wars on civilians and military families can also advocate for stronger rights and services for active-duty military and veterans.
Sources
About Face. (2019). Veterans Against the War.
Amnesty International. (2009, August 24). USA: Solider Imprisoned as Conscientious Objector: Travis Bishop. Amnesty.org.
Associated Press. (2009, September 26). Army Officer Who Refused Iraq Duty Is Allowed to Resign. New York Times.
Barber, Mike (2006, December 13). Soldier gets 30 days for going AWOL. Seattle Post-Intelligencer.
Benderman, Kevin. (2007). Letters from Fort Lewis Brig: A Matter of Conscience. Guilford, CT: The Lyons Press. 
Citizens' Hearing on the Legality of the Iraq War. (2007). Report of the Citizens' Hearing on the Legality of the Iraq War: The Case of Lt. Ehren Watada. Tacoma, WA.
Indymedia Presents. (2007, March 2). Citizens' Hearing on the Legality of the Iraq War: Part 1 & Part 2. YouTube.
Clousing, Ricky. (2006, August 31). Statement of Sgt. Ricky Clousing. Courage to Resist.
Cortright, David. (2005). Soldiers in Revolt: GI Resistance During the Vietnam War. Chicago: Haymarket Books.
Courage to Resist. (2019). Who We Are and What We Do. Courage to Resist.
G.I. Rights Hotline. (2019). GI Rights Hotline: Military Discharges and Military Counseling 1-877-447-4487.
Gilman, Lisa. (2011). Grounds for Resistance: A Film About Contemporary G.I. Resistance [documentary]. 
Iraq Veterans Against the War. (2019). About IVAW.
Iraq Veterans Against the War and Just Seeds Collective. (2011). Operation Recovery: You Are Not Alone.
Jamail, Dahr. (2009). The Will to Resist: Soldiers Who Refuse to Fight in Iraq and Afghanistan. Chicago: Haymarket Books.
Manzel, Seth. (2008, March). The Role of Military Families in GI Resistance. Works in Progress.
Murphy, Kim. (2009, November 19). Veterans bring back the anti-war GI coffeehouse. Chicago Tribune.
Paton, Dean. (2011, November 11). Military Resistance a Strong Brew. Yes! magazine.
TalkingStickTV. (2008, June 8).  Northwest Winter Soldier – 1st Hour & 2nd Hour. YouTube.
Yardley, William. (2007, February 6). Trial Starts for Officer Who Refused to Go to Iraq. New York Times.
Zeiger, David. (2005). Sir! No Sir!: The Suppressed Story of the GI Movement to end the War in Vietnam [documentary]. Displaced Films.