Now Showing in the Evergreen Library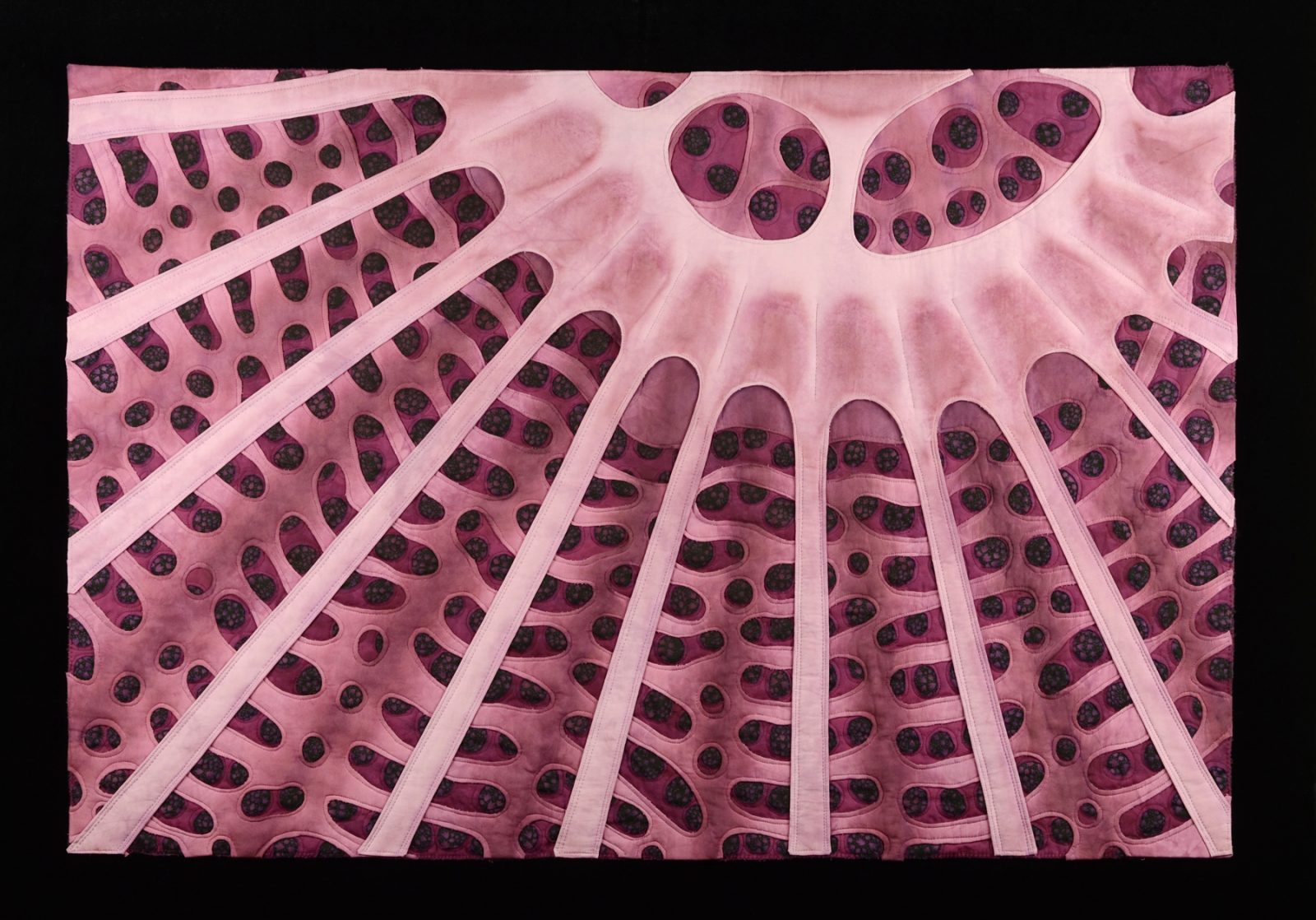 The Lib+ is honored to present Carla Stehr's Quilts and Molecule Photographs. Carla Stehr is a fiber artist influenced by a scientific career as a Marine Biologist. As a scientist, she studied cells and tissues of marine organisms and photographed the complexity and beauty of aquatic life with a scanning electron microscope. Several of Carla's microscopic images have found their way into her fiber art.
Carla Stehr was one of the first students to enroll at The Evergreen State College. The observation skills she learned through Evergreen's science programs were indispensable for her work as a scientist and an artist. Evergreen also nourished her passion for the marine environment and introduced her to using a scanning electron microscope. She received a BA in 1975, and began working as a scientist in the electron microscopy lab at NOAA, National Marine Fisheries Service in 1976. After completing a Master's degree in Fisheries at the UW in 1982, she enrolled in evening art classes and experimented with drawing, scientific illustration, colored pencil and watercolor. Her fabric addiction started in 1996 after making her first quilt for a newborn niece. The textural quality of stitch and fabric lead to more experiments and discovering that the sewing machine could be used to draw. Carla began using cloth and stitch to create art in the late 1990's. She now frequently adds paint, dye, colored pencil and more.
Stehr uses cloth, paint and stitch to express her fascination with aquatic life and natural patterns. Her work is inspired by a life-long obsession for exploring tide pools and a career as a Marine Biologist where she had the opportunity to photograph amazingly beautiful aquatic creatures with a scanning electron microscope.
Stehr is especially drawn to organisms that may be hard to see, like the tiny Moonglow Anemone partially buried in sand, or single-celled plants such as diatoms that are so small they can only be seen with a microscope.  Many of  her pieces are influenced by microscopic images she photographed as a scientist.
The textural properties of fabric and stitch lend an organic quality that Carla Stehr is compelled to use in her art. She may use overlapping layers of silk organza to suggest transparent structures such as anemone tentacles. Or, to suggest the multi-layered cell walls of diatoms, she may use multiple layers of fabric, creating openings in the top layers to reveal textured patterns below. Her intention is to illustrate features of plants, animals or natural patterns that might go unnoticed without close observation.