Evergreen's Climate Justice and Resilience Speaker and Event Series is centered on the Climate Academy program, and is hosted by multiple programs that study climate themes. All students, faculty, staff, and the general public are invited to join these events on Zoom. Announcements of speakers and events, ways to access the online events, and background links and documents, will be posted here. Soon after each event is over, videos will also be posted on the quarterly speaker series pages. Many thanks to Evergreen Media Services staff for their hard work in making this remote series possible.
The speaker and event series builds on the Anthropocene series (2015-16), two Indigenous Climate Justice Symposia (2015-17), the "Water is Life" forum (2017), "The Waters Connect Us" forum (2018),  the "Nurturing Roots" forum (2019), and other collaborative events at Evergreen. The speakers and events listed below are part of the 2020-21 series:
FALL 2020 SPEAKER SERIES (details below)
SEPT. 27: Fall Convocation Panel on Disaster Resilience
OCT. 27: Dr. Michael Méndez, author of Climate Change from the Streets

NOV. 10: Dr. Kyle Whyte, Indigenous climate scholar, U. of Michigan

NOV. 18: Professor Lane Selman, Culinary Breeding Network
FALL WEEK 9: Evergreen Prof. Pauline Yu, on Climate Change and Aquaculture
JAN. 25: Evergreen Prof. Ruth Hayes, on "Eco-Media; the Environmental Footprint of Media and the Myth of the Cloud"
FEB. 6: Sámi Perspectives on Green Colonialism: Response to Climate Change (Sámi National Day)
FEB. 8: Prof. John Bolte, on Climate Resilience Modeling
FEB. 20: Toshi Reagon on Parable of the Sower opera
FEB. 24: Evergreen Prof. Shangrila Joshi, on "Climate Justice in Global Context"
SPRING WEEK 1: Julie Barber (Swinomish Tribe Senior Shellfish Biologist) & Amanda Kelley (UA-Fairbanks Ocean Acidification Research Center)

APR. 14: Zoltán Grossman, Alex McCarty, and Conceptualizing Place students presenting publication on removing barriers to salmon runs
APR. 24: José Gómez Farmworker Justice Day / "Farmworkers' response to COVID-19 and wildfire danger using multigenerational movement organizing as an 'ecosystem'"

MAY 12: Prof. Amalia Leguizamón on "Environmental Injustice and Genetically Modified Soybeans in Argentina"
MAY 13: Rob Smith (U.S. Forest Service) on "Climate Change Modeling With Lichen Communities"
MAY 26: Evergreen Emeritus Prof. Jeff Antonelis-Lapp, with "A Virtual Field Trip in the Nisqually River Watershed"
---
Fall Convocation Panel on Disaster Resilience
Friday, September 25, 2020
The Fall Convocation, part of Orientation Day, will feature an interdisciplinary panel discussion with faculty and staff focused on the common read Rebecca Solnit's A Paradise Built in Hell: The Extraordinary Communities that Arise in Disaster (Penguin 2009), on how communities pull together in times of disaster. Solnit's recent articles "The impossible has already happened: what coronavirus can teach us," and "'The way we get through this is together': the rise of mutual aid under coronavirus," address the pandemic. The Convocation panel (moderated by Eirik Steinhoff) includes (short bios available):
Robin Bond (faculty: chemistry, astrobiology, environmental remediation)

Zoltán Grossman (faculty: geography, Native studies)

Kate Murphy '19 (Gateways for Incarcerated Youth AmeriCorps coordinator; Center for Community-Based Learning & Action/CCBLA)

Joli Sandoz (faculty: writing, community studies, analog game design)

Jeannette Smith (Director of Student Activities + Assoc. Dean for Student Engagement)

Convocation 2020 is posted below.
Dr. Michael Méndez, author of Climate Change from the Streets
Tuesday, October 27, 2020
Dr. Michael Méndez is an assistant professor of environmental policy and planning at the University of California, Irvine. His new book Climate Change from the Streets: How Conflict and Collaboration Strengthen the Environmental Justice Movement (Yale University Press, 2020) is an urgent and timely story of the contentious politics of incorporating environmental justice into global climate change policy. The leading sponsors are Evergreen's Tacoma Program and the Resilience Studies Consortium.
Dr. Méndez previously was the inaugural James and Mary Pinchot Faculty Fellow in Sustainability Studies at the Yale School of Forestry and Environmental Studies. Michael has more than a decade of senior-level experience in the public and private sectors, where he consulted and actively engaged in the policymaking process. This included working for the California State Legislature as a senior consultant, lobbyist, gubernatorial appointee, and as vice chair of the Sacramento City Planning Commission.
During his time at UC Irvine and Yale, he has contributed to state and national research policy initiatives, including serving as an advisor to a California Air Resources Board member, and as a participant of the U.S. Global Change Research Program's workgroup on "Climate Vulnerability and Social Science Perspectives." Most recently, Michael was appointed by the National Academies of Sciences, Engineering, and Medicine to the Board on Environmental Change and Society (BECS). He also serves as a panel reviewer for the National Academies of Sciences' Transit Cooperative Research Program (TCRP).
Dr. Méndez holds three degrees in environmental planning and policy, including a PhD from UC Berkeley's Department of City and Regional Planning, and a graduate degree from MIT. His research on the intersection of climate change and communities of color has been featured in national publications including Urban Land (published by the Urban Land Institute); the Natural Resources Defense Fund Annual Report; the American Planning Association's Planning Magazine; Green 2.0: Leadership at Work; USA Today; and Fox Latino News.
Post-Event Link:  Partial Recording and Assemblage of Dr. Mendez's Presentation and Work
---
Dr. Kyle Whyte, Indigenous climate scholar, on "Making Kin with Climate Change."
Tuesday, November 10, 2020
Dr. Kyle Whyte is one of North America's leading scholars in Indigenous climate justice and resilience. Dr. Whyte is a Citizen Potawatomi enrolled member and professor of environment and sustainability at the University of Michigan (formerly at Michigan State University). His work "addresses moral and political issues concerning climate policy and Indigenous peoples, the ethics of cooperative relationships between Indigenous peoples and science organizations, and problems of Indigenous justice in public and academic discussions of food sovereignty, environmental justice, and the Anthropocene."
Dr. Whyte was hosted by the "Conceptualizing Place: Pacific Northwest Native Art and Geographies" program (Alex McCarty & Zoltán Grossman), and his talk will also be attended by the "Climate Academy" (Rachel Hastings), "Writing & Community" (Alice Nelson, Catalina Ocampo, & Center for Community-Based Learning & Action/CCBLA), "Terroir/Meroir" (Prita Lal, Steven Sheuerell, Sarah Williams), "Introduction to Environmental Studies: Water" (Kristina Ackley, Shangrila Joshi, & Pauline Yu), "Indigenous Education / Child Welfare" (Gary Peterson & Yvonne Peterson), "Science, Story, and Sustainability" (Rebecca Chamberlain & Karen Hogan). Students from other programs (including the Native Pathways Program and MPA-Tribal Governance Concentration) were welcome to attend, and the event was open to the public (including other colleges and youth programs). The times on Tuesday, November 10, were as follows:
At 10:00-11:00 am, Zoltán Grossman gave a briefing on Pacific Northwest Native climate resilience, including the Quinault climate documentary The Rising, and discussed the Climate Change and Pacific Rim Indigenous Nations Project founded in 2006 at Evergreen. That section was prerecorded to make it available asynchronously (ahead of time), and both the lecture and film will also be screened synchronously (during the 10:00-11:00 event), followed by a live discussion at 11:10.
At 11:10-11:30 am (after a short break), there was a live discussion on the briefing and film, including Candace Penn and Maylynn Foster of the Squaxin Island Tribe, a welcome by Tina Kuckkahn-MIller (VP of Indigenous Arts, Education, and Tribal Relations) and introduction of Dr. Whyte by Prof. Yvonne Peterson.
At 11:30 am-12:50 pm, Dr. Whyte spoke in a live webinar format that will allow for questions. He will included his work with tribal climate youth camps and cross-cultural environmental alliances.
The briefing, film, discussion, and Dr. Whyte's talk an Q&A are on YouTube below:
Dr. Whyte's 8-page article "Indigenous Climate Change Studies: Indigenizing Futures, Decolonizing the Anthropocene," in English Language Notes (2017) was excellent preparation for his talk, as is his 15-page article "Indigenous science (fiction) for the Anthropocene: Ancestral dystopias and fantasies of climate change crises," in Environment & Planning E (2018).
Invite friends on the facebook event page.
Download a poster / social media ad here: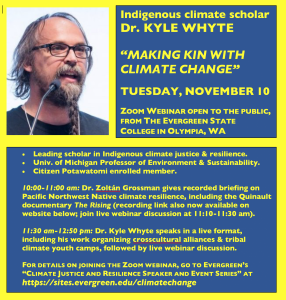 Prof. Lane Selman, Culinary Breeding Network
Wednesday, November 18, 2020
Professor Lane Selman spoke from 10:30-12 in the "Terroir/Meroir" program (hosted by Sarah Williams, Prita Lal and Steve Scheuerell).  An Assistant Professor of Practice in the Department of Horticulture at Oregon State University, she is passionate about food system resilience and created the Culinary Breeding Network to build communities of plant breeders, seed growers, farmers, produce buyers, chefs, and eaters to improve quality in vegetables and grains.
10:30-10:35 Welcome, Overview, Introductions
10:35-11:20 Lane Selman: Culinary Breeding Network
11:20-11:30 Q&A with Lane
11:30-11:45 Radicchio Tasting Lab with Caleb Poppe
11:45-12 Q&A with Lane and Caleb
The presentation and discussion are posted on YouTube:
These upcoming Culinary Breeding Network events are free and open to the public but require registration at the CBN website
Sagra del Radicchio took the form of a full day on Saturday, Oct 24 of the RAD TV station featuring shows on radicchio history, culture, cooking, cribs, and travel.
Variety Showcase + Winter Vegetable Sagra will take the form of joint virtual programming from December 2020 – March 2021, featuring TED-style talks, interactive Q&A sessions, cooking demos, and virtual field tours.
Sagra program content will focus on eight winter vegetables: Celeriac, Radicchio, Brussels Sprouts, Cabbage, Cauliflower, Collards, Winter Squash, Garlic and Purple Sprouting Broccoli. Presentations will explore plant histories, origins and domestication; medicinal, nutritional and culinary elements of species; farm visits; cooking demonstrations; art and folklore.
Variety Showcase will be a week of virtual video presentations and Q&A sessions with plant breeders and seedkeepers, featuring seed projects focused on winter varieties, Indigenous winter foods, selecting and breeding for organic systems and culinary quality.
Evergreen Prof. Pauline Yu, on Climate Change and Aquaculture
Week 9
Dr. Pauline Yu will be presenting a pre-recorded series of short panel conversations with students, advocates and scientific researchers around the themes of climate change, shellfish in the Pacific Northwest and food sovereignty for Pacific Northwest tribal nations. Dr. Yu is in her seventh year as faculty at Evergreen in the Environmental Studies curriculum pathway, and is currently both providing faculty co-supervision of the Evergreen Shellfish Garden and also co-teaching Introduction to Environmental Studies: Water (with Prof. Kristina Ackley and Dr. Shangrila Joshi.)
For background, see Dr. Yu's 2015 Anthropocene Consortium Series talk "Ocean Change: The Carbonate Trajectory of Ocean Climate."
Prof. Yu chats with alumna
Emily Wilder (2016)
and current Shellfish Garden Steward Makenna Medrano about the Evergreen Shellfish Garden, past, present and future.