The 2nd annual Indigenous Climate Justice Symposium was held on Thursday, May 4 and Friday, May 5 in the Longhouse Educational and Cultural Center at The Evergreen State College. This year the Symposium theme was "A Time for Gathering."
Evergreen faculty in the "Catastrophe: Community Resilience in the Face of Disaster" program co-hosted the Symposium with the Nisqually Tribe, as part of the Climate Change and Pacific Rim Indigenous Nations Project. Among the speakers were Faith Spotted Eagle and Rueben George, key leaders of Indigenous-led alliances to stop oil pipelines. See the event photos and bios of keynote speakers and panelists.
The theme of this year's Symposium was twofold–fossil fuel resistance, and resilience in the face of climate change, with a focus on Indigenous communities in the Pacific Northwest and beyond. The 1st annual Indigenous Climate Justice Symposium drew hundreds to the Longhouse in November 2015 (see the program and videos). Please find below the schedule of the 2017 Symposium. See the facebook event page, and the Symposium Poster: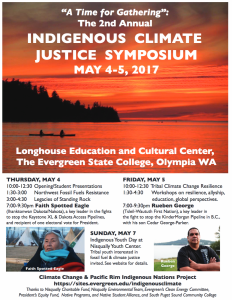 Thursday, May 4,
Evergreen Longhouse

10:00-10:30 Welcoming to Sgʷigʷialʔtxʷ, the House of Welcome
Delbert Miller (Skokomish)
Tina Kuckkahn-Miller (Longhouse director; Lac du Flambeau Ojibwe)
George Bridges (Evergreen President)
Lennée Reid (Spoken word artist, spiritualist, poet, environmentalist, & survivor; Choctaw)
10:30-12:30 Panel on Youth and the Climate Crisis (Facilitator: Frances Rains)
A focus on the role of youth and Native education in protecting the land and water, with a focus on Lummi. Panel on YouTube (2:12)
Michael Vendiola (Swinomish/Lummi/Visayan Filipino), Director, Office of Native Education,
Office of the Superintendent of Public Instruction
Becky Kinley (Lummi) and Lummi Youth Canoe Family on proposed coal terminal at Xwe' chi' eXen (Cherry Point): Nickolasa Revey, Kiera Hillaire, Tera Gaona

1:30-3:00 Panel on Fossil Fuel Resistance
(Facilitator: Zoltán Grossman)
Native nations lead opposition to fossil fuel shipping projects in the Pacific Northwest "chokepoint" (see map). Panel on Youtube (2:34).

Tyson Johnston (Quinault Indian Nation Vice President) on the Grays Harbor oil terminals
Cedar George-Parker (Tsleil-Waututh/Tulalip) on KinderMorgan pipeline from Alberta to BC & WA
Nancy Shippentower (Puyallup) on the Tacoma Liquified Natural Gas (LNG) project  
Roxann Murray (Assiniboine) on the Tacoma LNG project, Climate First Responders
3:15-4:30 Panel & discussion on Reverberations of Standing Rock
(Facilitator: Kristina Ackley)
First-hand sharing on the experience of Standing Rock, and where water protectors are going next.
Faith Spotted Eagle (Ihanktonwan Dakota/Nakota, Yankton SD)
Marles BlackBird (Hunkpapa Lakota, Standing Rock)
Lydia Celia Kiitukuut Drescher (Tongva, California)
4:30-7:00   Dinner (on own)
7:00-9:00 Keynote: Faith Spotted Eagle
Key leader of Native women's societies, & alliances to stop the Keystone XL & Dakota Access Pipelines. Keynote on YouTube (1:30):

Jeremiah George (Squaxin Island), Drum opening
Rachel Plenty Wolf (Oglala Lakota), Introduction of speaker
Faith Spotted Eagle (Ihanktonwan Dakota/Nakota, Yankton SD)   
Friday, May 5,
Evergreen Longhouse

10:00-10:30 Welcoming
Joe Seymour (Squaxin Island / Acoma) Drum and remarks
Evergreen faculty Shangrila Joshi Wynn and Zoltán Grossman on Climate Change & Pacific Rim Indigenous Nations Project
Jordan Sandaine (Native Student Alliance)
10:30-12:30 Panel on Indigenous Climate Resilience (Facilitator: Zoltán Grossman)
How Indigenous nations have led the way on climate change adaptation & cultural-ecological resilience.
Jamie Donatuto (Swinomish staff) on Swinomish climate change initiatives
Becky Kinley and Lummi Youth Canoe Family on 2015 visit to Paris for United Nations climate conference: Nickolasa Revey, Tera Gaona
1:30-4:30 Workshop: Decolonizing our Activism
In Cedar Room; educating non-Natives on how to work respectfully with Native people in decolonizing activism
Sweetwater Nannauck (Idle No More Washington; Tligit/Haida/Tsimshian)
1:30-3:00 Panel of International Perspectives on Resilience
In Main Room (Facilitator: Shangrila Joshi Wynn)
Case studies from South Asia, South America, and Africa
(* Skype presentation)
Janpeter Schilling* (Institute for Environmental Sciences, Germany), On Risk and Resilience: What does Oil Mean for Local Communities in Northwest Kenya?
Ugan Manandhar* (World Wide Fund For Nature-Nepal), Community-based Adaptation: Actions on the Ground
Pasang Sherpa (UW International Studies, Nepal) How do Nepalis Experience Climate Change?: Perspectives from the Himalayas
Erika Lincango (Kitu-Panzaleo, Ecuador), From the Amazon to Standing Rock: We Resist!
Tracey Osborne* (Univ. of Arizona Geography), Climate Alliance Mapping Project
3:05-4:30 Evergreen Student Presentations
In Main Room; (Facilitator: Zoltán Grossman)
Work by Tribal MPA grad student, & undergrads of Resource Rebels & Commodities programs
Ulysses Martin (Master of Public Administration-Tribal Governance program), on Sustainable Infrastructure under Climate Uncertainty
Roma Castellanos, on Economic Options in Grays Harbor Project with Quinault Nation
Raven Yamada, on Enbridge Oil Pipelines in Great Lakes region
4:30-5:00 Walking tour of Ethnobotanical Garden (Facilitator: Marja Eloheimo)
5:00-7:00   Dinner (on own)
7:00-9:00 Keynote: Rueben George
Key leader in alliance to stop the planned KinderMorgan oil pipeline expansion from Alberta to BC & WA
Joe Seymour (Squaxin Island / Acoma) Drum and remarks
Jenny Whitfield (Kanaka Maoli, Hawai'i) introduction of speaker
Rueben George (Tsleil-Waututh First Nation, North Vancouver BC). Keynote on youtube (1:36):
Our Thanks
Our thanks for the support for the events from the Nisqually Charitable Fund, Nisqually Environmental Team,  Evergreen's Clean Energy Committee, President's Equity Fund, Native Programs, and South Puget Sound Community College.     
Special thanks to the Native Student Alliance, the students of the Catastrophe and Thinking in Indian programs, the Longhouse Education and Cultural Center, Alma Barton (Makah), Pam Udovich, Julie Rahn, Michelle Bartlett, Tina Pearson, Lorri Moore, Sara Doran, and other Evergreen support staff.
Hanford McCloud Nisqually Tribal Council mccloud.hanford@nisqually-nsn.gov
David Stepetin Nisqually Environmental Team Stepetin.david@nisqually-nsn.gov
Shangrila Joshi Wynn Evergreen faculty, Political Ecology/Climate Justice wynns@evergreen.edu
Zoltan Grossman Evergreen faculty, Geography/Native Studies grossmaz@evergreen.edu
Kristina Ackley Evergreen faculty, Native Studies ackleyk@evergreen.edu
Frances Rains Evergreen faculty, Native Studies/Education rainsf@evergreen.edu
Debra McNutt Evergreen alum, Tribal MPA debimcnutt@gmail.com