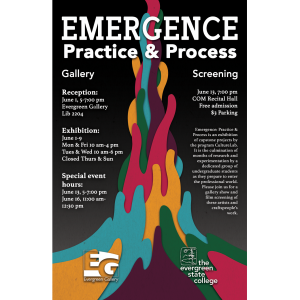 Exhibition open regular hours through Friday June 9
Additional Gallery open hours:
Tuesday June 13, 5 – 7pm, before film screening
Friday June 16, 11am – 12:30 pm, before Graduation ceremony
A culmination of interdisciplinary research and creative inquiry in the visual and media arts, Emergence showcases independent projects by students in the academic program, CultureLab. Ranging from cathartic expression to cultural critique, this work is the result of practice and process in an array of mediums, including printmaking, sculpture, furniture design, painting, ceramics, film, video, animation and installation.
The Emergence exhibition opens Thursday, June 1st at 5 pm in the Evergreen Gallery in the Daniel J. Evans Library Building.
The Emergence screening takes place Tuesday, June 13th at 7 pm in the Recital Hall in the Communications Building at The Evergreen State College.